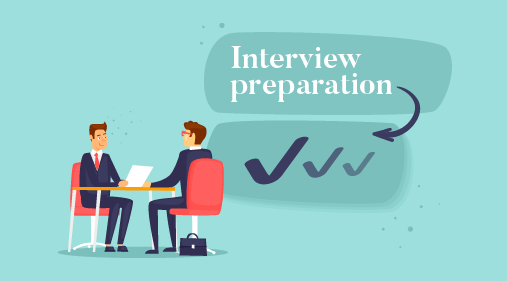 How To Prepare for a Job Interview
Alison Doyle is one of the nation's foremost career experts and has counseled both students and corporations on hiring practices. She has given hundreds of interviews on the topic for outlets including The New York Times, BBC News, and LinkedIn. Alison founded CareerToolBelt.com and has been an expert in the field for more than 20 years.
Do you have a job interview on your schedule? Taking the time to prepare for an interview in advance can help you ace the interview and secure a job offer. There are a number of steps you can take before (and after) the interview to ensure that you make a terrific impression on your potential employer.
Research the Company
Before you attend a job interview, it's important to find out as much as you can about not only the job, but also the company. Company research is a critical part of interview preparation. It will help you prepare to answer interview questions about the company and to ask the interviewer questions about the company. You will also be able to find out whether the company and its culture are a good fit for you.
For a concise understanding of the company, check out the company website, specifically the "About Us" page. Get a sense of how the company compares to other organizations in the same industry by reading articles about the company in industry magazines or websites. You can also check out company reviews from clients, and from current and former employees.
Be ready to answer questions
Remember, interviewers and candidates are evaluating each other during interviews. On their part, candidates will try to determine whether the job can fulfil their aspirations and whether the company is a good place for them to work. So they might ask relevant questions which you should be able to answer. If you give pertinent, transparent answers, you'll be able to create a better candidate experience and sell your company in a way that helps candidates decide if they're a good fit. Preparing for these questions in advance may take some time, but you'll need to do this only once before the interview phase begins.
For some of these questions, interviewers may need to consult HR. For example, are you allowed to divulge the pay range of the position? Which future projects can you mention if a candidate asks and which are confidential? If candidates ask something you don't know the answer to, or aren't allowed to disclose, prepare to say so tactfully.
Plan your time and agenda
If possible, clear your schedule at least 15 minutes before and after each interview. It's best not to leave candidates waiting while you finish up a meeting, or having to rush them out if you have a meeting right after the interview. Giving them time and your full attention is more likely to earn their respect. If you're doing a video interview, check your laptop, camera and microphone a few minutes before the interview so you'll have time to correct any possible issues.
Also, plan a rough agenda for the interview. Completely unstructured interviews, where the interviewer improvises, are not effective. By having an agenda, you'll be able to guide the discussion more efficiently and make sure you won't forget to cover any important topics.
Determine how you'll open the discussion and how you'll close. Many interviewers make small talk at the beginning but this may introduce bias that will affect how you rate candidates' answers. It could be useful to standardize the opening "small talk" questions as an effort to make your hiring more effective. Another approach would be to begin by introducing yourself and talking about a test or assessment candidates took as part of your hiring process. For example, if your candidates for an Editor role were given an editing exercise, ask them what they thought of it and discuss their performance.
20 Tips for Great Job Interviews
1. Research the industry and company.
An interviewer may ask how you perceive his company's position in its industry, who the firm's competitors are, what its competitive advantages are, and how it should best go forward. For this reason, avoid trying to thoroughly research a dozen different industries. Focus your job search on just a few industries instead.
2. Clarify your "selling points" and the reasons you want the job.
Prepare to go into every interview with three to five key selling points in mind, such as what makes you the best candidate for the position. Have an example of each selling point prepared ("I have good communication skills. For example, I persuaded an entire group to . "). And be prepared to tell the interviewer why you want that job – including what interests you about it, what rewards it offers that you find valuable, and what abilities it requires that you possess. If an interviewer doesn't think you're really, really interested in the job, he or she won't give you an offer – no matter how good you are!
3. Anticipate the interviewer's concerns and reservations.
There are always more candidates for positions than there are openings. So interviewers look for ways to screen people out. Put yourself in their shoes and ask yourself why they might not want to hire you ("I don't have this," "I'm not that," etc.). Then prepare your defense: "I know you may be thinking that I might not be the best fit for this position because [their reservation]. But you should know that [reason the interviewer shouldn't be overly concerned]."
4. Prepare for common interview questions.
Every "how to interview" book has a list of a hundred or more "common interview questions." (You might wonder just how long those interviews are if there are that many common questions!) So how do you prepare? Pick any list and think about which questions you're most likely to encounter, given your age and status (about to graduate, looking for a summer internship). Then prepare your answers so you won't have to fumble for them during the actual interview.
5. Line up your questions for the interviewer.
Come to the interview with some intelligent questions for the interviewer that demonstrate your knowledge of the company as well as your serious intent. Interviewers always ask if you have any questions, and no matter what, you should have one or two ready. If you say, "No, not really," he or she may conclude that you're not all that interested in the job or the company. A good all-purpose question is, "If you could design the ideal candidate for this position from the ground up, what would he or she be like?"
If you're having a series of interviews with the same company, you can use some of your prepared questions with each person you meet (for example, "What do you think is the best thing about working here?" and "What kind of person would you most like to see fill this position?") Then, try to think of one or two others during each interview itself.
6. Practice, practice, practice.
It's one thing to come prepared with a mental answer to a question like, "Why should we hire you?" It's another challenge entirely to say it out loud in a confident and convincing way. The first time you try it, you'll sound garbled and confused, no matter how clear your thoughts are in your own mind! Do it another 10 times, and you'll sound a lot smoother and more articulate.
But you shouldn't do your practicing when you're "on stage" with a recruiter; rehearse before you go to the interview. The best way to rehearse? Get two friends and practice interviewing each other in a "round robin": one person acts as the observer and the "interviewee" gets feedback from both the observer and the "interviewer." Go for four or five rounds, switching roles as you go. Another idea (but definitely second-best) is to tape record your answer and then play it back to see where you need to improve. Whatever you do, make sure your practice consists of speaking aloud. Rehearsing your answer in your mind won't cut it.
7. Score a success in the first five minutes.
Some studies indicate that interviewers make up their minds about candidates in the first five minutes of the interview – and then spend the rest of the interview looking for things to confirm that decision! So what can you do in those five minutes to get through the gate? Come in with energy and enthusiasm, and express your appreciation for the interviewer's time. (Remember: She may be seeing a lot of other candidates that day and may be tired from the flight in. So bring in that energy!)
Also, start off with a positive comment about the company – something like, "I've really been looking forward to this meeting [not "interview"]. I think [the company] is doing great work in [a particular field or project], and I'm really excited by the prospect of being able to contribute."
Source:
https://www.thebalancecareers.com/how-to-prepare-for-a-job-interview-2061361
https://resources.workable.com/tutorial/preparing-conduct-interview
https://www.experis.com/en/insights/articles/2021/05/25/20-tips-for-great-job-interviews